Getting Children Ready For School During A Divorce In Fort Lauderdale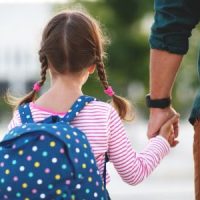 For parents, one of the biggest concerns when getting a divorce in Florida is how it will impact their children. If you find yourself facing this situation, our experienced Fort Lauderdale family lawyer is here to help. The following offers tips on child time-sharing, financial support, and how to handle common issues that often arise with children going back to school.
Child Time-Sharing Arrangements In Fort Lauderdale For School-Age Children 
Under the Florida Statutes, child time-sharing arrangements are generally preferred in cases of divorce or unmarried parents. This allows both you and the other parent to continue playing an active role in the child's life. Summer poses unique challenges in terms of coordinating a parenting plan that accommodates both parents' schedules.
Once children go back to school, their own schedule becomes a top priority. The following offers some tips to make it easier for everyone:
Factor in your child's school and homework schedule, as well as sports or extracurricular activities and free time with friends.
Determine whether splitting the child's time between both parent's homes is feasible.
Consider the rights of each in picking up or dropping the child at school, attending events, signing permission, and making important decisions on their behalf.
Depending on the child's age and maturity level, get their input when making time-sharing arrangements.
Child support should also be addressed. The amount ordered should be enough to help offset school expenses, including tuition payments, activity or lab fees, books, uniforms, supplies, and any field trips or other costs.
Providing The Emotional Support Your Children Need
Creating a solid parenting plan and making sure your child's financial needs are provided for can help them as they start a new school year. However, they will need emotional support as well. Psychology Today offers these tips:
Be willing to talk about the divorce: Explain the situation in simple terms. Assure children that they are not responsible while avoiding placing blame or bad mouthing the other party.
Be willing to answer their questions: They are likely to have numerous questions, such as regarding where they will live and how this will impact other family relations. Answer simply and honestly, and provide the reassurance they need.
Acknowledge their feelings: Let them know you understand how difficult the situation can be and that you are available to talk about their feelings. Keep in mind that it is natural for children to feel sad, confused, or angry.
Adjust your expectations: Adjusting to divorce is a process, both for you and your children. Take it easy on yourselves and avoid unrealistic expectations.
Our Fort Lauderdale Family Lawyer Is Here To Help
Factoring in your child's needs and making sure they get emotional and financial support helps children heading back to school after a divorce. Experienced Fort Lauderdale family lawyer Vanessa L. Prieto is here to help throughout the process. Reach out to our office and request a consultation today.
Sources:
leg.state.fl.us/statutes/index.cfm?App_mode=Display_Statute&URL=0000-0099/0061/Sections/0061.13.html
psychologytoday.com/us/blog/how-raise-happy-cooperative-child/201302/8-strategies-helping-kids-adjust-divorce