Five Ways Establishing Paternity Can Benefit Your Child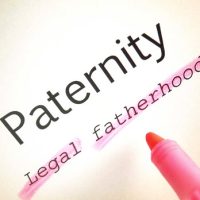 Increasing numbers of mothers and fathers are choosing to raise children without the benefit of marriage, and the majority are every bit as capable of providing the love and emotional support their child needs to thrive as their married counterparts. In some cases, parental responsibilities are shared, with both parents being actively involved in their child's life. In others, either the mother or the father may have chosen to assume sole responsibility for raising the child themselves, often with the help of friends or other loved ones. In either case, going through the formal process of establishing paternity should be a top priority as a way of making sure your child is provided for, both now and in the years to come.
Benefits of Establishing Paternity

According to the Centers For Disease Control and Prevention (CDC), close to half of all children born in the U.S. are to unmarried mothers. While the men involved in these situations may be fathers in every sense of the word, it is important to understand how both state and federal laws view this relationship. Without the benefit of marriage and absent the signing of any type of acknowledgement in the hospital, paternity is not established in Florida, meaning the father has no legal rights when it comes to the child. Thus, there are important benefits that your child would be unable to claim. Benefits that come with establishing paternity include the following:
Child Support and Custody

Without legal paternity, unmarried fathers have no rights when it comes to parenting plans or gaining custody of the child in the event something happens to the mother. In addition, even in cases in which the mother has enough income on her own to provide for the child's needs, child support provides financial advantages your child should not be deprived of.
Veteran's Benefits

If the child's father is a service member, the U.S. Department of Veterans Affairs provides numerous benefits they may be entitled to claim. These may include tuition and housing assistance, vocational counseling, and compensation in the event the service member dies or becomes disabled.
Social Security

If the father becomes disabled, retires, or passes away, your child may be entitled to Social Security benefits. These include compensation of up to half of the amount of disability or retirement benefits the father receives, as well as up to 75 percent of the benefit amount in the event of the father's death.
Life Insurance and Wills

Under the rules of the Florida probate court, your child would be a rightful heir to their father's estate, and could inherit any assets or undesignated life insurance benefits upon the father's death.
Health Insurance and Information

Establishing paternity can enable your child to be covered under their father's health insurance plan, and could assist in gaining valuable health information in terms of family medical history and genetic or hereditary disorders.

We Can Assist You Today
If you have not established legal paternity for your child, contact the Vanessa L. Prieto Law Offices, LLC  today. Our experienced Florida paternity attorney can advise you on the various options available in your situation, while acting as a strong legal advocate to ensure you and your child's rights are protected.
Resources:
cdc.gov/nchs/fastats/unmarried-childbearing.htm
flcourts.org/resources-and-services/family-courts/family-law-self-help-information/probate.stml