Fort Lauderdale Divorce FAQs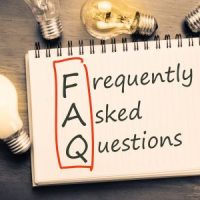 If you are considering ending your marriage, it is natural to have concerns about what the process entails. Our Fort Lauderdale divorce lawyer answers some of the most frequently asked questions (FAQs) we hear from our clients:
How Do I File For Divorce In Fort Lauderdale?
To get a divorce in Fort Lauderdale, you will need to file a divorce petition through the Broward County Family Court. Your lawyer will draft this document for you, which details your address, the date you got married, whether you have children, and other pertinent details, as well as what you are seeking in a settlement.
You do not need to specify fault grounds for divorce, but it can help your case. There are no time limits in terms of being separated, but you must be a Florida resident for at least six months prior to filing.
What Should I Do If Served With A Summons?
If your spouse files for divorce, you will be served with a summons to appear in court. Take this immediately to a divorce lawyer, along with any other legal documents you received. You have a right to answer the summons and dispute any claims made in the petition but must do so within specific time limits.
How Long Do I Have To Wait To Get A Divorce?
The amount of time it takes to get a divorce in Fort Lauderdale depends on the circumstances surrounding your case. In a simple, uncontested divorce, you may be able to get a final order in as little as 30 to 60 days. In more complex cases, such as when there are property and assets that must be divided, disputes over child time-sharing, or other issues between you and your spouse, it can take six months or longer.
What Are My Rights In Terms of Property, Assets, and Children?
The Florida Statutes dictate how property, assets, and children are handled in a divorce. Generally, you are entitled to an equitable share of any homes, cars, furnishings, or other items accumulated during your marriage, as well as money in bank accounts, retirement benefits, or other assets.
In terms of children, the court is generally in favor of child time-sharing arrangements that allow both parties to remain active and involved in the child's life. A parenting plan will dictate the specific terms, based on the circumstances surrounding your case.
Can My Spouse And I Use The Same Lawyer?
Getting a divorce can impact your financial security and your rights regarding children for years into the future. Once a final order is issued, it is difficult to change. To ensure you get your fair share in a settlement, you should have your own divorce lawyer. Even in relatively simple cases, this helps to ensure your rights are protected.
Request A Consultation With Our Fort Lauderdale Divorce Lawyer Today
As an experienced Fort Lauderdale divorce lawyer, Vanessa L. Prieto provides trusted legal guidance and professional representation. To discuss your particular case, contact our office and request a consultation today.
Sources:
https://www.browardclerk.org/Divisions/Family
http://www.leg.state.fl.us/statutes/index.cfm?App_mode=Display_Statute&URL=0000-0099/0061/0061.html