Simplified Divorce In Florida And Other Options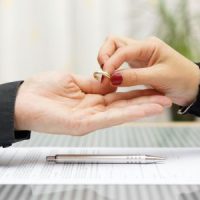 Marriages break up for a variety of reasons and the circumstances surrounding the decision to get a divorce are as different and unique as the individual parties involved. While some cases involve highly complex and contentious issues that require lengthy legal proceedings, others are able to be resolved in a far more simple manner. Our Fort Lauderdale divorce lawyer explains simplified divorce and other options available.
Are You A Candidate For A Simplified Divorce In Fort Lauderdale?
Regardless of the circumstances surrounding the break-up of your marriage, most couples would prefer to resolve their divorce in the quickest and most inexpensive manner possible. A simplified divorce may be an option.  Under the Florida Statutes, this allows the parties to file the required documents with the court and obtain a final divorce order at the next available hearing date, generally in as little as one or two months.
As the court is unable to give legal guidance or anything other than the most basic instructions on filing a divorce petition, it is still recommended that you have an experienced Florida divorce lawyer on your side. However, in addition to saving time, a simplified divorce can also save money in court costs and attorney fees. Cases in which it may be an option include:
The couple has no children;
There are no marital property or assets that need to be divided;
Neither spouse is seeking alimony payments.
An Uncontested Divorce Or A Marital Settlement Agreement Are Also Options
As the name implies, a simplified divorce is an option in only the most basic of cases. If this does not fit your situation, you may still be able to save time and money by filing an uncontested divorce through the Broward County Family Court or negotiating a marital settlement agreement.
In an uncontested divorce, the couple may have children, property and assets, or other issues to resolve before a final divorce order can be issued. However, the parties are generally on amicable terms and able to reach their own agreements, rather than having to negotiate them through the court and having a judge decide.
In more complex cases or in situations where a couple is unable to reach an agreement on their own, a marital settlement agreement is an option. This involves meetings between the parties and their attorneys on important matters that must be resolved. Once a settlement agreement is negotiated, it can then be presented before the judge so that a final divorce order can be issued. In addition to saving time and money, this can also help protect your privacy by not having sensitive information revealed in public court hearings.
Discuss Your Options Our Fort Lauderdale Divorce Lawyer
If you are considering getting a divorce, discuss your options with Fort Lauderdale divorce lawyer Vanessa L. Prieto. We can assist you obtain a final divorce order in the most efficient and cost-effective manner possible. Call or contact us online to request a consultation.
Sources:
leg.state.fl.us/statutes/index.cfm?App_mode=Display_Statute&URL=0000-0099/0061/0061.html
browardclerk.org/Divisions/Family