Four Things You Should Agree to Disagree on when Getting A Divorce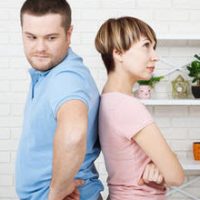 Divorce is as unique as each of the people involved. The reasons for it and the circumstances surrounding the case vary, but there are certain issues which seem to be common in even the most amicable of situations. When involved in divorce proceedings, getting these issues resolved in the most timely and cost effective manner possible is generally a priority. To accomplish this, there are some things you and your former spouse should just agree to disagree on. In our experience, these include the following:
The reasons why you are getting divorced.

Under the Florida divorce statutes, you do not need specific grounds or reasons for getting a divorce. However, this issue is often a major point of contention for many divorcing couples. One partner may blame the other for becoming emotionally distant, for working too much, or for otherwise neglecting their marriage. In some cases, there are actual incidents involving adultery or other behaviors involved. In either case, little good comes from rehashing what happened and fighting over it.
At the same time, these are actions your former spouse takes that should be documented and discussed with your attorney. While they do not impact your ability to get a divorce, they can influence child time sharing and property division.
Control issues that occurred during your marriage.
During a marriage, each partner may play a particular role. One may be good with money or may be known as more level headed, while the other is a spender and tends to make sudden, spur of the moment decisions. Once divorce paperwork has been filed, it is important to let go of any power struggles over these issues and focus on accepting that the other person is likely not going to change or do things your way. Dragging old patterns of behavior and attitudes into divorce related negotiations only delays the process and can hurt your case.
Issues pertaining to money.
According to Psychology Today, fights over money are one of the main reasons marriage fail. During your divorce, you will need to resolve important issues regarding property and asset division, as well as alimony or child support. Trust your divorce attorney and their guidance in negotiations and in making settlements when appropriate.
When to begin new relationships.
Moving on to a new relationship before your divorce has been finalized is not generally in anyone's best interests, as it can distract you from important matters that need to be resolved. If your former spouse has begun dating, do not take it personally or think you need to do the same. Once the divorce is final, this can still be a touchy subject. Avoid flaunting your new partner and use discretion in cases where children are involved. 
Contact Us Today for Help
To protect yourself during divorce proceedings, it is important to have an experienced Fort Lauderdale divorce attorney on your side, guiding you throughout the process.  Contact the law offices of attorney Vanessa L. Prieto today and request a consultation to discuss your case and how we can help you.
Resource:
psychologytoday.com/us/blog/evolution-the-self/201211/couples-stop-fighting-over-money