Getting Through The Holidays When Going Through A Divorce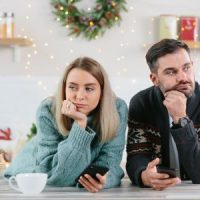 Dealing with the breakup of a marriage and facing the prospect of a divorce can be depressing. It is particularly difficult during the holiday season. With so much uncertainty in your personal life and justifiable fears about your financial future, trying to force yourself to 'get into the spirit' may feel like more than you can bear. Speaking with our Fort Lauderdale divorce attorney can help. We can address some of your practical concerns and help you chart a clear course of action. In addition to knowing what to expect from your divorce proceedings, we provide some tips that can help you get through the coming months ahead.
What You Can Look Forward To In Your Divorce Proceedings 
Having your marriage break up can leave you feeling depressed and defeated. Meeting with our Fort Lauderdale divorce attorney can lift your spirits and help you feel more empowered. It is the first step in getting closure on the situation and can help you in future planning, highlighting important issues that will be addressed in your final divorce order. Under the Florida Statutes, these are likely to include:
Marital property division: You have a right to an equitable portion of all marital assets, including homes, cars, household furnishings, money in bank accounts, and even your spouse's retirement benefits.
Spousal support: If you make less than your partner or sacrificed your own career for the sake of the marriage, you may be entitled to spousal support payments.
Child time sharing and support: Depending on the details in your case, a parenting plan will be created, protecting your rights in regards to children and ensuring you get the financial support you need.
Tips For Handling The Holidays When Getting A Divorce 
Meeting with our attorney and discussing concrete plans for your divorce can help you feel a greater sense of confidence about the entire situation. However, handling the holidays can still be tough. The following are some tips to help you through this season:
Adjust your expectations: Go easy on yourself and avoid the pressure of wanting to make everything 'perfect'.
Practice saying 'no': While friends and family members are well-meaning, they may put pressure on you to act better than you feel or attend functions you do not want to. Learning to say no can help protect your physical and emotional health.
Plan something you enjoy: Go through Sunny.org's calendar of holiday events for Fort Lauderdale and enjoy the freedom of picking something you might actually enjoy attending, without having to consult with your spouse.
Help others: Not feeling an event? Considering volunteering. Hands On Broward offers an abundance of opportunities. Helping others when you feel down can be very rewarding.
Contact Us Today for Help
You do not have to go through this holiday season on your own. At the law office of Vanessa L. Prieto, we are here to help. Reach out and call or contact our Fort Lauderdale divorce attorney online to request a confidential consultation today.
Resource:
sunny.org/events/holidays/