Four Reasons To Get A Prenup Prior To A Second Marriage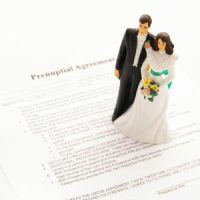 Just because your first marriage did not work out, it does not mean future relationships will end the same. Many people end up getting a second chance at true love. If you are planning on tying the knot again, you have much to celebrate. However, before walking down the aisle, there are some practical matters to address. Creating a prenuptial agreement provides important protections, particularly in a second marriage. The following are four reasons to consider putting one in place.
A prenup provides transparency in your relationship.
Under the Florida Statutes, a prenuptial agreement is a legally binding contract that details the rights and responsibilities of each party in a marriage. And, yes-it also addresses how property will be divided in the event of a divorce. However, creating one does not mean you have doubts about your marriage. If anything, it can end up making it stronger.
One of the ways a prenup does this is by providing transparency. As part of your agreement, you and your partner will each have to detail all of the individual property, assets, and debts you own. This avoids any unpleasant surprises once you get married and ensure both of you are entering the union with your eyes wide open.
A prenup helps clarify attitudes about money and expected lifestyle.
According to Market Watch, money is one the issues couples fight about most and is a common contributing factor in many divorce cases. In addition to disclosing individual assets and debts, a prenuptial agreement prompts you to have frank discussions regarding your attitudes about money in general and the type of lifestyle each of you expects to live once you are married. Clarifying expectations regarding finances is healthy for your future relationship.
A prenup shields individual assets, any businesses you own, and retirement benefits.
Second marriages often involve older, more experienced partners. You may have started your own business, invested income wisely, have inherited wealth, or received a large settlement in your past divorce. While premarital assets are generally not included as part of equitable distribution in a divorce, they can easily become commingled with marital property. A prenup prevents this from happening. It also can help ensure you are provided for in the future and protects any retirement benefits you earn.
A prenup helps ensure an inheritance for your children.
A prenup does not take the place of estate planning, but it does allow you to address potential future issues and needs. This includes making sure children from a prior marriage are provided for and that their inheritance is protected in the event of a divorce.
Reach Out to Us Today
At the law office of Vanessa L. Prieto, we can answer all your specific questions regarding prenups and how having one in place can benefit you, whether this is a first, second, or subsequent marriage. To request a consultation, call or contact our Fort Lauderdale prenuptial & postnuptial agreement attorney online today.