How An Ex's New Family Could Impact Child Time-Sharing And Support In Fort Lauderdale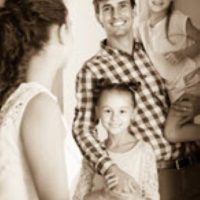 Dealing with the break-up of a relationship is difficult, but there is generally a point at which both parties are ready to move on. However, you may still find yourself facing a few issues once your former partner establishes a new family. In addition to the complex emotions you may be feeling, there are practical matters to consider as well. Find out how this situation could impact any current child time-sharing arrangements you have in place and your rights to child support in Fort Lauderdale.
Dealing With The Fallout When Your Former Partner Moves On
According to Psychology Today, there are often invisible ties that bind former partners with each other to varying degrees. Depending on how long you were together and the circumstances surrounding your breakup, you may still have strong feelings about them, which could become an issue once they move on and begin creating a new family.
This can be particularly difficult if you have children together. Common feelings you are likely to experience include:
Resentment over their new relationship and the fact that they feel able to move on;
Jealousy concerning how they treat their new partner or the life they have together;
Sadness concerning your former marriage, the circumstances surrounding your breakup, and how their new family impacts your children
Fear over how their new family will affect their relationship with you and their role in parenting children you have together.
Impacts On Child Time-Sharing And Child Support
Unfortunately, once your former partner moves on and begins establishing a new family, it will undoubtedly impact you and the children you have together. Some ramifications you can expect include:
Changes in focus: With each new child that enters the picture, there may be less focus on children from prior relationships.
Less availability: Their new family will likely take up significant amounts of time, which could impact your interactions and any child time-sharing arrangements you currently have in place.
General awkwardness: Children are resilient and may have no trouble adapting to their new siblings. However, it is not uncommon for problems to arise, particularly when dealing with step-parents and new expectations.
Reduced resources: Children cost money. Once your spouse begins having a new family, they may request changes to their current child support obligations.
Under the Florida Statutes, having additional children is justification for your spouse to request modifications both in child support amounts and in child time-sharing arrangements. To protect yourself and your rights, contact our experienced Fort Lauderdale lawyer.
Request A Consultation With Florida Family Lawyer Vanessa L. Prieto Today
Remarriage or having children with a new partner can cause disruptions in the current child time-sharing and support arrangements you have in place with your ex. To discuss viable options in your particular case, reach out to Fort Lauderdale family lawyer Vanessa L. Prieto. Call or contact our office online and request a confidential consultation today.
Sources:
psychologytoday.com/us/blog/shrink-wrap/201910/the-ex-factor-and-the-invisible-ties-past-relationships
leg.state.fl.us/statutes/index.cfm?App_mode=Display_Statute&URL=0000-0099/0061/Sections/0061.13.html#:~:text=The%20court%20shall%20order%20sole,interests%20of%20the%20minor%20child