How To Protect Children From Domestic Violence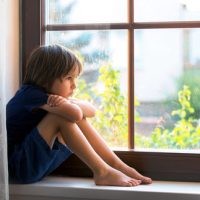 Children are among the most vulnerable victims of domestic violence in Fort Lauderdale. Even if the abuse is not directed towards them, they can still suffer serious emotional trauma as a result. If you are a parent in an abusive situation, it is important to be aware of the impacts it can have on your children and practical steps you can take to protect them.
The Impact of Domestic Violence On Children
Domestic violence is a serious problem in Florida and across the country. According to Child Welfare.gov, it happens in nearly three million homes throughout the U.S. and impacts as many as 10 million children. Even if they are not abused themselves, they often bear witness to the abuse of a parent. This can involve hearing violent fights and acts of abuse, seeing it happen and attempting to intervene on behalf of a battered parent, or seeing bruises and dealing with the emotional trauma in the aftermath. Children who are exposed to domestic violence can end up suffering a variety of both physical and emotional symptoms. These often include:
Problems sleeping, including bed-wetting, nightmares, and not wanting to sleep in their own beds;
Chronic headaches and stomach aches;
Eating disorders, causing them to either lose or gain weight;
Throwing more frequent tantrums;
Acting out in school and doing poorly in terms of grades;
Either spending more time away from home or isolating from friends;
Being clingy with the abused parent and showing outward hostility towards the abuser;
Taking on the role of parent, particularly with their siblings or other children.
Practical Steps To Protect Children If There Is An Abuser In The Home
If domestic violence is an issue in your home, it is important to be aware of practical steps you can take to protect yourself and your children:
If you are still living in the home, keep emergency numbers programmed into your phone and have an escape plan ready, in case you need it.
Consider seeking counseling through one of the many groups for domestic violence victims in Fort Lauderdale, both for yourself and for your children.
Report incidents of abuse immediately to the police and consider your options in terms of getting a restraining order against the abuser.
An Order For Protection Against Domestic Violence can allow you and your children to remain in the home while requiring your partner to stay away from the property and to avoid contacting you in other ways. It can also require them to pay support to you and your children and to take anger management classes, attend counseling, and report to a judge regularly.
Contact Us Today for Help
If you are dealing with an abusive situation in your home, reach out to Fort Lauderdale domestic violence attorney Vanessa L. Prieto. We can help you take legal action to protect yourself and your children. Reach out and call or contact our office online to request a confidential consultation today.