Five Common Myths About Prenuptial Agreements In Florida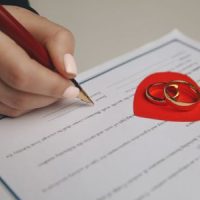 Prenuptial agreements are often a touchy subject between couples. Entered into prior to getting married, they provide an inventory of individual property each party possesses and details how marital property will be divided in the event of a divorce. However, it is important to be aware that this is just part of what a prenuptial agreement accomplishes. There are a variety of myths and misperceptions about them, the following being among the five most common. Do not let these stand in the way of putting this important legal document in place.
They reflect poorly on your relationship. 
This is perhaps one of the biggest misconceptions about prenuptial agreements-that they indicate doubts about your relationship and whether your marriage is likely to succeed. According to the American Psychological Association (APA), between 40 to 50 percent of marriages do fail but signing a prenup has absolutely nothing to do with it. In fact, as money problems are one of the most common causes of divorce, discussing these issues when creating a prenup can actually help prevent problems in your marriage. 
They are something only wealthy or famous people need. 
You often hear about famous or wealthy people putting a prenuptial agreement in place to protect their fortunes, but you do not need to be wealthy to benefit from a prenup. Business owners, property owners, people set to inherit large sums or antiques from their families, and those who were previously married or with children outside of the relationship should all consider creating a prenuptial agreement.
A prenup only applies in the event of a divorce. 
A prenup can serve many purposes other than just protecting you in the event of a divorce. It can clarify attitudes regarding money (other of the issues couples fight about most) and expectations about the type of lifestyle you live while married. It also helps clarify important estate planning issues and forms the basis for a will and other important documents you will want to create once you are married. 
They are inherently unfair to one of the spouses. 
In addition to thinking a prenup reflects some type of doubts on the part of your partner, you may also have concerns about it being fair in the event a divorce does happen. Under the Florida Statutes, a prenuptial agreement must address the needs of both parties in a reasonable manner, otherwise it can easily be disputed.
A prenuptial agreement cannot be contested.
A prenuptial agreement is a legally binding contract. However, if you were pressured into signing, if it treats you unfairly, or if your spouse lied about their assets, you can contest your prenup and have it overturned in your divorce.
Let Us Help You Today
Our experienced Fort Lauderdale prenuptial & postnuptial agreement attorney can guide you in the options for creating a prenup and answer any questions you or your partner have. To request a consultation, call or contact Vanessa L. Prieto online today.
Resource:
apa.org/topics/divorce#:~:text=They%20are%20also%20good%20for,subsequent%20marriages%20is%20even%20higher