Six Good Reasons To Consider Getting A Postnuptial Agreement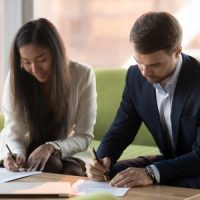 In any successful marriage, there are challenges couples face. Having a prenuptial agreement provides important protections. If you have never taken this step, it is not too late. The following are six good reasons to consider getting a postnuptial agreement.
When To Get A Postnuptial Agreement
Getting a postnuptial agreement can help to address important issues in your marriage while preventing some of the problems that can land you in divorce court. The following are six situations where you should consider it as an option:
You never created a prenuptial agreement.
Many couples do not get a prenuptial agreement for fear it indicates some doubts about the relationship. Nothing could be further from the truth. Getting a prenup can actually help to clarify important matters pertaining to money, property, and goals in regards to lifestyle, helping to prevent future disputes. If you did not create a prenup prior to saying 'I do', consider a postnuptial agreement after.
You want to update your prenup.
If you already have a prenuptial agreement, you may want to update it during your marriage to reflect changes in your financial circumstances or to clarify issues previously overlooked, Harper's Bazaar reports that it is increasingly common for high asset couples to create a postnup as a way of rewarding their spouse. It can acknowledge their sacrifices and loyalty over the years, granting them additional rights in regards to money or property.
You have started a business.
Many people are opting to start their own business and there are a greater number of options available. Under the Florida Statutes, your spouse is entitled to an equitable share of any property or assets earned or acquired during your marriage. This could mean having to split or sell your business in the event of a divorce. A postnup can prevent this from happening.
You inherited money.
Inherited funds you receive during your marriage are generally not included in marital property division during a divorce. However, if funds become commingled in joint accounts, this could change. Getting a prenuptial agreement protects these assets.
Your spouse engaged in marital misconduct.
This is one of the most common reasons for getting a postnuptial agreement. The American Bar Association (ABA) Journal reports that Beyonce and Jay-Z allegedly have a postnup that imposes serious financial penalties if one of the spouses has an affair.
You reconciled after a breakup.
You do not need fault grounds to get a divorce in Fort Lauderdale, but they can be a factor in increasing the amount you may be entitled to in alimony or property division settlements. If you file for divorce but reconcile with your spouse, you will no longer be able to use their past behavior against them. A postnup provides important protections.
Contact Us Today for Help
Considering a pre or postnuptial agreement? Discuss your options with our experienced Fort Lauderdale prenuptial & postnuptial agreement attorney. Call or contact the office of Vanessa L. Prieto online to request a confidential consultation today.