How To Set Clear Goals For Fort Lauderdale Paternity Proceedings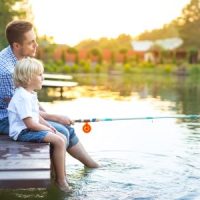 Parents have a legal duty to provide for their children. If you are unmarried and have a child, initiating paternity proceedings in Fort Lauderdale can help ensure your child gets the financial support they deserve. Understanding what to expect from these proceedings and setting clear goals can help in obtaining the best possible outcome in your case.
Focus On The Benefits Of Establishing Paternity
If you are a single parent and your child's father is not listed on the birth certificate, you have two options in establishing paternity under the Florida Statutes. One is to have the other parent voluntarily acknowledge paternity. The other is to formally establish it through the courts.
The process involves filing a petition and requesting DNA testing. Once positive results come back, the father's name can be added to the birth certificate. This provides important benefits:
Can allow you to gain important information regarding medical history from the father's side;
Enables you to seek child support from the father and have payments enforced by the court;
Gives your child access to any Social Security and Veteran's benefits the father is entitled to receive;
Gives your child legal rights to property and assets of the father for estate planning purposes.
Managing Your Expectations
The Florida Department of Revenue strongly encourages establishing paternity for the sake of everyone involved. It gives fathers a chance to play a role in their child's life, gives the mother the financial support she needs, and eliminates any future questions the child may have regarding parentage while offering the opportunity to establish a vital relationship. However, it is important to manage your expectations in paternity proceedings and to set clear goals. Issues to consider include:
The role the father will play in the child's life: Establishing paternity gives the father certain rights when it comes to child time sharing arrangements. While there are numerous factors the judge will consider before including them in a parenting plan, you want to consider your goals regarding the role they play in the child's life.
The amount of support they provide you: Having another parent in the picture can be an adjustment if you have been raising your child on your own, but it can also provide practical support you need. Sharing parenting responsibilities can make juggling a busy personal and professional schedule easier and may allow you some time for yourself.
Their willingness to pay child support: Having a child support order in place does not automatically mean the other parent will be willing to pay. However, it does allow you to take advantage of enforcement efforts, such as wage garnishment and asset seizure.
Reach Out to Us Today for Help
Establishing paternity helps to protect the well-being of both you and your child. At the law office of Vanessa L. Prieto, we provide the caring support you need and can help guide you through the process. To request a consultation, call or contact our Fort Lauderdale paternity attorney online today.