Including Summer Child Time-Sharing In Your Fort Lauderdale Parenting Plan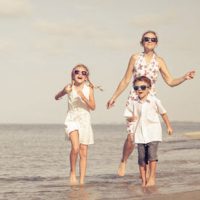 Child-time sharing arrangements are generally encouraged in cases of divorce and single parents. Dividing parental rights and responsibilities allows both parties to remain active and involved in the child's life. However, as any parent of school-age children knows, even the best-laid plans can go haywire during the summer months. Our Fort Lauderdale divorce lawyer explains how to factor this into your parenting plan.
Creating A Parenting Plan In Fort Lauderdale
When getting a divorce where children are involved and in any type of paternity proceedings in Fort Lauderdale, child time-sharing is generally encouraged. Under the Florida Statutes, this aims at allowing both parties ongoing access to their children, provided it is in the child's best interests.
In making these arrangements, a parenting plan is generally negotiated between the parties. Areas that will be addressed include:
The child's primary residence, or whether they will split time evenly between the parents;
Rights regarding overnight stays;
Weekends, holidays, and other special occasions;
Legal authority in making decisions that impact the child;
Transportation arrangements between each parent's home;
Plans regarding school breaks and summer vacations.
Issues To Address In Summer Parenting Plans
While children eagerly look forward to summer, it can be a hectic time of year for parents. This is particularly true if you are a single parent or going through a divorce. While it is difficult to plan ahead, you will need to make the attempt when creating a parenting plan in Florida. Some of the most common seasonal issues that will need to be addressed include:
Any special child care requirements: This includes agreements regarding daycares, private babysitters or nannies, and spending time with relatives.
Special activities your child engages in: Many parents opt to send their children to summer camp or have them participate in recreational activities in the community.
Vacation arrangements: Both you and the other parent may want to take a summer vacation and have your child travel along with you.
Sudden changes in plans: Unexpected issues are likely to arise over the summer months, which could impact your rights regarding visits, transportation arrangements, or other plans.
It is important to begin early when making plans for your children over the summer months and to include provisions in your parenting plan for resolving unexpected problems and any issues that arise. Remember, once a parenting plan is in place, both parents are required to follow it.
Request A Consultation With Our Fort Lauderdale Child Time-Sharing Lawyer
Creating a parenting plan presents unique challenges, particularly when dealing with the hectic summer months. The top priority is protecting your rights as a parent, as well as your child's safety. Fort Lauderdale child time-sharing lawyer Vanessa L. Prieto is here to help.
We provide the trusted legal guidance you need in creating a parenting plan in Florida that suits your needs and protects your child's best interests. To request a consultation, call or contact us online today.
Sources:
leg.state.fl.us/statutes/index.cfm?App_mode=Display_Statute&URL=0000-0099/0061/Sections/0061.13.html#:~:text=The%20court%20shall%20order%20sole,interests%20of%20the%20minor%20child.
flcourts.gov/content/download/686031/file_pdf/995a.pdf