Is A DIY Online Divorce A Good Idea?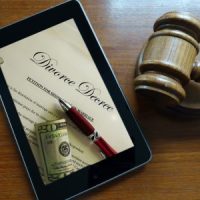 Divorce is one of the most difficult things you can go through. However, you likely know others who have gone through the process and may have read plenty about it online. As a result, you may be thinking you can do it yourself, downloading instructions and forms via the internet. Before attempting to file for a divorce in Fort Lauderdale in this manner, there are some important things you need to consider.
Common Problems In Obtaining A DIY, Online Divorce 
Is it possible to get a divorce in Fort Lauderdale, doing it yourself and completely online? Technically, the answer is yes, depending on the circumstances in your case. Legal forms used in a divorce are available through the Broward County Family Court website. Once completed, you can then file these online through the state e-portal system. However, this only applies in simplified cases, in which both parties agree to get a divorce, there are no disputes involving marital property and assets, and child time sharing arrangements are not an issue.
Even in this type of case, there are common problems you can run into. These include:
Filing incorrect legal documents: The first step in getting a divorce is to file a petition. With it you will need to include a family court cover letter, financial declarations, a notice of hearing, and other legal documents. For your own protection, anyone other than a licensed attorney is prohibited from dispensing legal advice, including courthouse personnel. A simple mistake in filling out these forms or filing them with the court will cost you both time and money.
Problems with process serving: When filing for a divorce, you must provide notice of service on your spouse. This involves using the Sheriff's office or a professional process server and submitting a sworn affidavit to the court affirming service was accomplished. Not fulfilling this requirement will result in denial of your divorce petition. If you are the person who gets served, not responding or failing to do so in the appropriate time frame jeopardizes your rights in divorce proceedings.
Overlooking important divorce issues: There are important issues in any Florida divorce that should be discussed with an experienced attorney. Not getting legal guidance could impact your rights regarding money and property, as well as your relationship with any children from the marriage.
Having an experienced Fort Lauderdale divorce attorney on your side prevents these problems and is likely to save you money in the long run. In addition to handling disputes and addressing any allegations of marital misconduct, which can impact your rights in divorce, we can also advise you on how the Florida Statutes apply in terms of marital property division, spousal support, and child time sharing.
Contact Our Fort Lauderdale Divorce Attorney Today
At the law office of Vanessa L. Prieto, we can help ensure your divorce is filed properly and important issues are addressed, protecting your rights while saving you both time and money. Call or contact our Fort Lauderdale divorce attorney online today and request a confidential consultation.