Making A Move As A Divorced Parent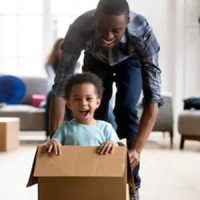 Divorce disrupts every area of your life. In the aftermath, you may feel the need to make a fresh start or even relocate to another area. This can create challenges if you are a divorced parent and have court-ordered child time-sharing arrangements in place. Find out more about the process and some of the legal ramifications you will need to consider.
Moving As A Divorced Parent
According to Realtor.com, the average home in Fort Lauderdale costs over $500,000. Even rental units are likely to set you back several thousands of dollars a month. As you make the adjustment to living on one income and raising your child as a divorced parent, paying these amounts could present a problem. Even factoring in child support and alimony payments, a move may be the best option. Common issues that prompt changing residences or relocating to another town include:
Not being able to afford the care and upkeep of a home you gained ownership of in your divorce settlement;
Having a home that is too big to manage in your new role as a divorced parent;
Lack of job opportunities in your chosen career field;
Needing to be closer to family or friends, who can help in providing child care.
The Legal Process of Relocating As A Divorced Parent
Child time-sharing arrangements detail the rights and obligations of both you and your child's other parent. Parenting plans typically include the amount of time the child spends in each parent's home, rights regarding overnight visits on weekends, holidays, and school breaks, and pickup/drop-off arrangements.
If you are thinking of making a move, consider how it could affect parenting plans currently in place. If you will be moving to a neighborhood in the same town, there is likely to be only minimal impacts. If you are moving to another city or even out of state, you need to be aware of the legal process for relocating as a divorced parent.
Under the Florida Statutes, you must notify the court of your intentions and get changes in your parenting plan approved by the judge. Factors they will consider in either approving or denying your request include:
The reasons behind the move;
Whether it is in your child's best interests;
How it will impact the other parent's rights;
Whether the other parent consents to or disputes the move.
Your former spouse will need to be notified of your intent to relocate and has the right to object. This will mean appearing at court hearings, which could impact move-in dates and other arrangements.
Discuss Your Options With Our Fort Lauderdale Child Time Sharing Attorney
If you have a child and are considering either a move or relocation in the aftermath of a divorce, find out how it could impact any current parenting plans in place. To discuss your options, call or contact the law office of Vanessa L. Prieto online and request a consultation with our Fort Lauderdale child custody & time-sharing attorney today.
Resource:
realtor.com/realestateandhomes-search/Fort-Lauderdale_FL/overview