Making Holidays Joyful For Children Despite Divorce Proceedings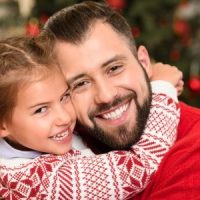 The holidays are a fun time of year for everyone, regardless of age. However, much of the focus centers on creating a sense of excitement and wonder for children. Unfortunately, this can be challenging if you are going through divorce proceedings. Our Fort Lauderdale child time-sharing lawyer shares some tips for how to make this season more joyful, despite the situation.
Acknowledging The Changes In Your Family
 One of the hardest things for parents who are going through a divorce is seeing the effect it can have on their children. Years ago, studies conducted by the National Institutes of Health (NIH) warned parents to be alert for a variety of symptoms, including depression, anger, anxiety, and regression to previous child-like behaviors. While this still holds true in many cases, children today are generally more aware and accustomed to hearing about divorce proceedings. Having seen many of their friends go through the same experience and feeling freer to talk about their feelings can help them adjust to the situation.
However, parents still play a major role in terms of how children process this type of major life event. One of the most helpful things you can do is to simply acknowledge the situation. This includes:
Letting children know where you are in terms of your divorce plans;
Explaining some of the practical impacts your divorce is likely to have in their lives;
Reassuring them that both you and your spouse still love them and will be there for them as parents;
Reminding them that, while things may be difficult right now, you will all get through it.
Creating A Sense of Joy For Children
Much of the fun surrounding the holidays centers on the innocence of children and creating a sense of surprise and wonder for them. Unfortunately, this can prove challenging when they are hurting as a result of divorce proceedings between parents.
Help Guide offers a variety of tips and resources that can help during this difficult time. Steps you can take to create a sense of joy despite the circumstances include:
Lower your expectations: Avoid trying to make the holidays 'perfect'.
Make an effort to cooperate with the other parent: Treat each other with respect and consideration.
Enlist other family members: Relationships with grandparents, aunts or uncles, and other relatives are important.
Create new traditions: Honor ways your family previously celebrated holidays while creating a few fun, new traditions.
Focus on non-material gifts: Rather than overindulging children with extravagant presents, consider getting them involved in some type of service instead.
Take time for self-care: Being reasonably happy and healthy yourself is the best gift you can give your children.
Reach Out And Request A Consultation With Our Fort Lauderdale Child Time-Sharing Lawyer
As an experienced Fort Lauderdale child custody and time-sharing lawyer, Vanessa L. Prieto provides the caring support and trusted legal guidance you need to protect your children and your rights as a parent during divorce proceedings. To request a consultation, reach out and call or contact us online today.
Sources:
ncbi.nlm.nih.gov/pmc/articles/PMC2817796/
helpguide.org/articles/parenting-family/children-and-divorce.htm