New Bill Proposes Child Support Should Start At Conception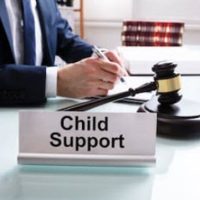 The recent overturning of federal abortion laws has created major controversy. While some hail it as a victory, others see it as a major setback. Both sides generally agree that it should not be on the mother alone to assume all parental responsibilities. A new bill, which is sponsored in part by Florida Senator Mark Rubio, proposes having child support obligations start at conception.
Recent Supreme Court Ruling Overturns Roe V. Wade
Roe v. Wade was the landmark case that made abortion legal throughout the country. In 1973, the Supreme Court ruling affirmed a woman's right to maintain control over her body and asserted that her right to obtain a safe, legal abortion was protected under the U.S. constitution.
It has been a controversial issue ever since, prompting politicians to take strong stands either for or against it while activists on both sides held protests and loudly voiced their opinions. After much legal wrangling and debate in the decades that followed, Roe v. Wade ended up being overturned by the current Supreme Court Justices in June of 2022.
Amidst the outrage of women's rights activists and protests over the implications and impacts on state laws, one point has united opposing parties: that caring for children born as a result of changes in state abortion laws is a responsibility that should be shared by both the mother and father.
Senator Rubio Proposes new Child Support Legislation
The Republican party is known for being 'pro-life' and has long pushed to overturn Roe v. Wade. Now that they have succeeded-and to quash claims that they only care about life inside the womb and not what will happen to children born as a result of new abortion restrictions-they are spearheading legislation mandating child support begin at conception.
According to a July 2022 WFLA News report, U.S. Senator Mark Rubio (R-Fla.) and Senator Mark Kramer (R-N.D.) have sponsored a bill that would give mothers the right to pursue child support payments from fathers while they are expecting. Rather than having to wait until after their child is born and assume all prenatal and delivery expenses on their own, it would provide expectant mothers some relief by forcing fathers to take financial responsibility for their actions.
The same as with existing child support laws, the bill would contain the following provisions:
Fathers could be held financially responsible based on either marriage to the mother or the results of DNA testing;
Once a child support order is entered through the local court, the amount continues to accrue until the total is paid;
Payments would be enforced nationwide, with expectant fathers subject to wage garnishments and asset seizure;
Fathers who refuse to pay would face potentially serious penalties, including suspension of driving privileges and a potential jail sentence.
Request A Consultation With Our Fort Lauderdale Child Support Attorney
Fort Lauderdale child support attorney Vanessa L. Prieto helps protect the rights of mothers and provide the legal representation needed to obtain child support you are owed. To request a consultation, call or contact our office online today.
Sources:
law.cornell.edu/supremecourt/text/410/113
wfla.com/news/politics/rubio-proposes-law-for-child-support-to-start-at-month-of-conception/