Protecting Your Child As a Single Parent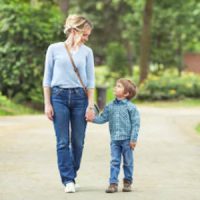 Being a single parent provides special rewards but it can also present numerous challenges. As the sole caretaker of your child, it is important to take the steps needed to protect them in the event anything happens to you. Establishing paternity is an important first step, as well as ensuring you have the proper legal documents and insurance plans in place.
Establishing Paternity
Some single parents lose contact with the father soon after the child is born. In other cases, he may remain in the child's life, but without any type of firm commitment or obligation. In either situation, if his name is not on the birth certificate, this is one of the first areas you need to address.
Establishing paternity protects your child's rights, now and in the years to come. In addition to entitling them to the financial support they deserve, proving paternity also provides the following:
Allows access to paternal health history, which could reveal chronic conditions that need to be addressed;
Can entitle them to be included on the father's health insurance policy, ensuring their medical needs are met;
Allows access to social security, Veteran's Administration, and other important benefits;
Ensures they are beneficiaries of the father's estate, meaning they would have the right to inherit in the event anything happens to him.
Paternity can be established through a voluntary acknowledgement. If the father refuses to recognize the child, it can also be established through legal proceedings. While it automatically entitles you to child support, it does not entitle the father to be included in any child time sharing arrangements. In order to obtain these rights, he would have to go to court and prove he is capable of playing an active, engaged, and nurturing role in the child's life.
Protecting Your Child's Future
In addition to establishing the father's paternity, there are other steps as a single parent that you can take to protect your child and ensure their future well being. These include:
Create estate planning documents: Having a will is one of the most important and basic estate planning documents you need to have in place. It conveys your wishes and how you want matters to be handled. Advance directives in Florida can help in emergency situations, where you are unable to manage your affairs or communicate with doctors or other providers yourself.
Consider a legal guardian: If something happened to you, consider who you would want to take care of your child. You can give this person power of attorney over your estate and provide for any future financial needs through a trust or other means.
Look at life insurance options: If you do not have significant savings or you owe heavy debts, you may want to consider a life insurance policy to ensure your child is provided for financially.
Contact Us Today for Professional Help
As an experienced Fort Lauderdale divorce attorney, Vanessa L. Prieto helps single parents take the steps needed to protect their children. To discuss your options, contact our office today and request a consultation.
https://www.vanessaprietolaw.com/common-causes-of-marital-problems-and-how-they-can-impact-divorce-settlements/