Study Finds Women More Likely to File for Divorce than Men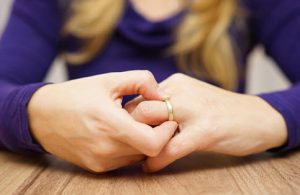 The results of sociologist Michael Rosenfeld's study are about the same as they were decades ago; women initiate about 69% of all divorces, and most parties surveyed agreed that it is the woman who was more likely to want to break up. Similarly, a 1956 study showed that among couples in Detroit who divorced in the 1940s, the wife had initiated about two-thirds of the divorces.
The Rosenfeld Study
The study at issue involved over 2,500 straight Americans between the ages of 19 and 64, with information being gathered annually for a period of five years. Rosenfeld also looked at heterosexual non-marital relationships in this study, but concluded that men and women equally initiated break-ups of this type of relationship. Furthermore, non-marital relationships usually involved both partners agreeing that they should end the relationship.
Unfair Expectations for Married Women
In his study, Rosenfeld drew a correlation between women's desire to divorce – or their lower level of marital satisfaction – and the unfair expectations that our society puts on women as they marry. For instance, even in today's society, less than 10% of women keep their own last names, suggesting that men often put pressure on their fiancées to take their last names. Likewise, many husbands continue to expect that women will spend more time doing housework and caring for children, an expectation that ends up being true in many marital relationships. This is despite the fact that women have many rights that are equal to those of men, as compared to 150 years ago, when women could not vote and were considered to be the property of their husbands.
Women Take a Greater Financial Hit as a Result of Divorce
Despite the fact that women disproportionately initiate divorce proceedings, they still end up taking the greater financial hit following the divorce. For the first time in their lives, women may find themselves living at or below the poverty line following their divorce. Evidence suggests that women understand and expect that they will experience a lower standard of living following their divorces, but are still willing to pursue the divorce. In other words, these women really want to get divorced, despite the adverse financial consequences. The only possible way to avoid these potential financial problems may be to get advice and representation from a qualified Florida divorce lawyer who can help you obtain the best financial settlement possible in your case. In doing so, you may be able to avoid the lower standard of living that many women experience following a divorce.
Contact Your Florida Divorce Attorney Today
No divorce is without conflict, and often that conflict centers around financial matters. Don't put yourself in a position that risks your financial future. Instead, get the experienced and skilled divorce representation that you need in order to obtain a fair and just divorce settlement. Call your Fort Lauderdale divorce lawyer and let us begin working toward an efficient resolution of your case. Contact us today at the office of Vanessa Prieto, and schedule an appointment with us regarding your divorce.
Resource:
psychologytoday.com/blog/the-new-resilience/201508/women-initiate-divorce-much-more-men-heres-why