The New Law Governing Child Time-Sharing In Florida And How It Could Impact Your Case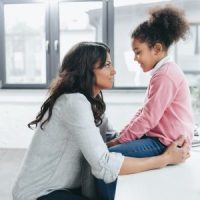 Child time-sharing in Fort Lauderdale is generally favored in cases of divorced or single parents. It is considered in the best interests of the child, as it encourages both parties to remain active and involved in their lives. However, a recently enacted law goes beyond 'encouraging' it, making it almost mandatory. Our Fort Lauderdale child time-sharing lawyer explains the ramifications and how it could impact your case.
New Law Presumes 50/50 Child Time-Sharing
The Florida Statutes encouraged child time-sharing but stopped short of requiring it by law. However, a recently enacted bill now makes it a 'rebuttable presumption' that parenting time will be divided on an even basis between both of the parties involved. What does rebuttable presumption mean? Basically, each party has equal access to the child, barring any type of concrete evidence that it would not be suitable.
House Bill 1301 passed in both the Senate and the House in April of 2023, was signed into law by Florida Governor Ron DeSantis in late June, and went into effect July 1st. While the wording of the previous law protected both the best interests and the rights of parents, the change promises a more level playing field. It also makes it easier to modify child time-sharing arrangements in the event one of the parents relocates.
How Florida's New Child Time-Sharing Law Could Impact Your Case
In cases of divorce or with unmarried parents, child time-sharing is an important issue to resolve. Previously, both parties would appear in the Broward County Family and present evidence on why they should be included in a parenting plan. Any arrangements made would not necessarily ensure both had equal access to the child.
Under the new law, while parents may still make customized plans, equal rights in child time-sharing is now the legal standard. Barring a mutual agreement between the parties, you would be required to present evidence as to why you and the other parent should not divide parenting time on a 50/50 basis. Valid reasons for restricting either parent's rights include:
They previously had little involvement with the child;
There are doubts about their ability to provide the nurturing the child needs;
They refuse to cooperate with the other parent;
There is evidence of drug or alcohol abuse, or other potentially dangerous behavior;
There is a history of domestic abuse.
Discuss Your Case With Our Experienced Fort Lauderdale Child Time-Sharing Lawyer
Florida's new child time-sharing law is meant to protect the rights of parents. However, it could create potentially serious problems in your particular case. To ensure your child's safety and best interests are protected, reach out to our experienced Our Fort Lauderdale divorce lawyer.
At the law office of Vanessa L. Prieto, we can review all the circumstances surrounding your situation and advise you on the legal options available. To get the professional legal help you need, call or contact us online and request a consultation today.
Sources:
leg.state.fl.us/statutes/index.cfm?App_mode=Display_Statute&URL=0000-0099/0061/Sections/0061.13.html
m.myfloridahouse.gov/Sections/Documents/loaddoc.aspx?FileName=h1301z1.CJS.DOCX&DocumentType=Analysis&BillNumber=1301&Session=2023
browardclerk.org/Divisions/Family