Virtual Visitation and Other Forms of Electronic Communications in Child Time-Sharing Cases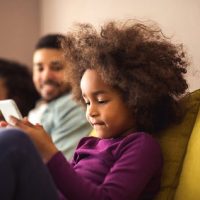 Children spend a lot of time on electronic devices and it is not uncommon for parents to complain about this or to limit their use. However, in child time sharing cases, the different types of technologies available can afford these same parents more ways to communicate. This can be particularly helpful when parenting plans prevent you from being together in person or when one parent lives out of town.  Virtual visitation, chats, and connecting through social media accounts can all serve as useful tools in helping to nurture your relationship.
Child Time Sharing and Electronic Communications
When parents are divorced or otherwise no longer living together, child time sharing plans will be made through the courts. Under the Florida Statutes, this may involve joint parenting plans where the child spends certain amounts of time with each parent during the week, over weekends, and on holidays or school breaks. For parents who are used to being together and engaging with the child around the clock, the amount of time spent apart can be difficult to adjust to at first.
Electronic communications can help to bridge the gap with your children when they spend time in the other parent's home. This may include:
Phone calls and texts,
Emails, chats, and instant online messages;
The sharing of information, photos, and videos through social media accounts.
While this can be a positive thing for both you and your child, each parent needs to use caution to avoid going overboard. Children need time to bond with the parent they are currently with. Spending all of their time online or communicating electronically with others can adversely impact the schedule in the home and the parent/child relationship.
Virtual Visitation
In some cases, electronic communications may be the only way for a parent to spend time with a child. This is often the case when a parent lives out of state or travels frequently. It can also be helpful during times of extended visits. Video conference tools such as Zoom or GoToMeeting can allow an absent parent and the child to spend some quality face to face time together. Activities that can be shared during virtual visitation include:
Having meals together;
Doing homework or studying;
Providing parental advice when problems or issues arise in the child's life;
Reading bedtime stories and tucking the child in at night.
In terms of child time sharing, the use of virtual visitation as well as cell phone pictures and videos can prove invaluable to an absent parent. It  enables them to stay more involved and engaged with the child and to play a more supportive role in their life.
Reach Out to Us Today for Help
Fort Lauderdale child time-sharing attorney Vanessa L. Prieto provides the professional legal representation you need in creating parents plans that protect both your child and your rights as a parent. Call or contact our office online today to request a consultation.
https://www.vanessaprietolaw.com/when-emotional-abuse-is-a-factor-in-time-sharing-proceedings/