What Is A Postnuptial Agreement And Do I Need One?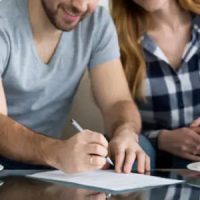 Circumstances throughout your marriage can change your financial status, your personal relationships, and the overall relationship you have with your spouse. While you may be used to working in tandem with your partner and sharing everything, there are times you need to take action to protect yourself. This includes creating a postnuptial agreement. Find out more about how it works and when to consider putting one in place.
What Is A Postnuptial Agreement?
Under the Florida Statutes, a prenuptial agreement is entered into prior to marriage and acts as a legally binding contract between you and your spouse, protecting you in the event of a divorce. A postnuptial agreement can achieve the same goals but is created once you are already married.
A postnuptial agreement acts as a contract as well, addressing many of the same issues found in a prenup. These include:
Provides an inventory of all individual and jointly owned property and assets;
Dictates how these will be divided in a divorce;
Establishes rights regarding buying, selling, or otherwise managing property;
Details estate planning documents and what will happen in the event that one of you passes or becomes incapacitated.
The same as a prenup, a postnuptial agreement may include stipulations regarding alimony or spousal support payments but it may not address either partners rights in any way in regards to  child time sharing and support.
When To Get A Postnuptial Agreement
According to the latest statistics from the Center for Disease Control and Prevention (CDC), the total number of couples getting a divorce in Florida has decreased over the past 20 years but our overall divorce rate remains one of the highest in the country. If you are seeing signs of trouble or experiencing problems in your marriage, such as constant fighting or affairs and other types of marital misconduct, it may be in your best interests to create a postnuptial agreement.
Even if your marriage is strong and otherwise healthy, there are other circumstances in which creating a postnup is a good idea. These include:
You neglected to get a prenup. If you did not put a prenup in place prior to marriage, a prenup can address important issues and prevent misunderstandings regarding money after.
Your financial circumstances changed. Over the years, you and/or your spouse may have dramatically improved your financial situation. A postnup inventory property and assets and can help in managing them wisely.
You started your own business. Whether you own your business outright or share it with your spouse or other partners, a postnup protects everyone's interests.
You came into an inheritance. A postnup protects inherited wealth and property, helping to ensure it is there for future generations.
Let Us Help You Today
To find out more about prenups and how they can protect you, reach out to the law office of Vanessa L. Prieto. To request a consultation with a Fort Lauderdale prenuptial & postnuptial agreement attorney, call or contact our office online today.