When Domestic Violence Impacts Your Job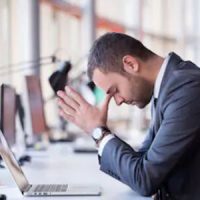 Domestic violence can take a variety of forms, including physical, sexual, or emotional abuse. At the core, the abuser's need to have control over their partner is often the driving issue. In addition to endangering your health and well-being at home, domestic violence can also impact you on the job. The following highlights a common problem and steps you can take to protect yourself.
Domestic Violence: Impacts Beyond Your Home
According to statistics from the Centers for Disease Control and Prevention (CDC), domestic violence impacts roughly one out of every four women and one in every ten men. In Florida, it refers to physical acts of violence, sexual assault or harassment, threats or other acts of intimidation, and stalking that occurs between spouses, formally married partners, and couples who live together.
Unfortunately, alongside the ramifications of domestic abuse you suffer in your home and in your relationships, it can have a major impact on your job. Common problems abusers create for victims in these situations include:
Engaging in harassing calls, emails, or appearing at the job site;
Waiting to confront you in the parking lot;
Attempting to contact your boss or co-workers;
Causing you to miss work due to threats, injuries, or court appearances.
At a time when you are likely pooling all your resources to leave an abusive spouse or to recover from this type of relationship, their behavior creates additional financial insecurity. The CDC reports that between medical care, court costs, and lost wages, costs you face as a result can run into hundreds of thousands of dollars.
Protecting Yourself at the Workplace
Whether you are considering leaving an abusive partner or have already taken steps to end the relationship, there are legal actions you can take to protect yourself. A Petition for Protection Against Domestic Violence acts as a restraining order, keeping your former partner from your home and from appearing at work or other public places. It can also require them to pay spousal or child support, which can help you meet expenses.
In addition, there are laws that can help to protect you in the workplace. Under Section 741.313 of the Florida Statutes, employers are required to provide victims of domestic violence with at least three days of paid or unpaid leave to address legal issues or to get care for their injuries, without putting their job in jeopardy. Other steps you can take to protect yourself on the job include:
Providing a photo of the abuser to your employer and onsite security;
Letting your employer know the legal actions you have taken;
Arranging to park in a protected area or to have someone escort you to your vehicle;
Keeping copies of your restraining order with you at all times.
Let Us Help You Today
When dealing with domestic violence, it is important to know you are not alone. Fort Lauderdale domestic violence attorney Vanessa L. Prieto can provide the trusted guidance and professional legal representation you need to protect yourself. To schedule a confidential consultation, contact our office today.
Resource:
flcourts.org/content/download/403225/3457684/980a.pdf
https://www.vanessaprietolaw.com/domestic-violence-prevention-plan-for-during-a-divorce/