Child Time-Sharing Issues With Military Parents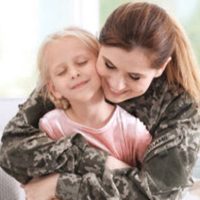 Child time-sharing is always a sensitive matter between couples who are getting divorced or are otherwise separated. However, being a military member further complicates things. Our Fort Lauderdale child time-sharing lawyer explains more about common issues you may face and your rights in this situation.
Your Rights Regarding Child Time-Sharing Orders When You Are A Military Parent
Military life differs dramatically from being a civilian. There are a variety of rules and regulations that apply, which are often designed to protect the rights of military members but can also complicate certain situations. This is particularly true when it comes to child time-sharing.
Whether you are in the military or have a child with someone who is, one of the most important rights is in regard to being present for Broward County Family Court proceedings. This means:
If you are going through a divorce or other type of breakup, you can not put a parenting plan in place or otherwise proceed with child time-sharing hearings while the military member is deployed or otherwise unable to attend hearings.
If you currently have a parenting plan and a final child time-sharing order issued by the judge in your case, you cannot make any major changes to it until the military member returns and is free to attend hearings.
Putting A Parenting Plan In Place
Under the Florida Statutes, parenting plans are generally encouraged in cases of divorced or separated parents and allow both parties to continue playing an active role in the child's life. The military member must not be deployed and must otherwise be free to attend hearings before you can put a parenting plan in place. Some of the issues you will need to consider in creating a plan include:
Provisions for future deployments: Generally, only parents may be included when creating a parenting plan. However, with military members, another relative, such as a grandparent, may be designated to take their place, particularly if they end up getting deployed for more than 90 days.
Military-required relocations: Having to relocate periodically is part of military life. Generally, if either parent relocates more than 50 miles or more away, it must be cleared through the court. Military members are not exempt. Any special provisions you want to make now should be included as part of your parenting plan and reflected in a final order.
Emergency situations: While you cannot make changes in a parenting plan while a military member is deployed, there are emergency situations that can arise. The one exemption is if the child's health or safety is in danger, and it may be helpful to include this as a provision in your parenting plan.
Request A Consultation With Our Fort Lauderdale Child Time-Sharing Lawyer
Fort Lauderdale family lawyer Vanessa L. Prieto has extensive experience assisting military families in creating parenting plans. We can guide you in addressing important issues while ensuring your rights and your child's safety are protected. To request a confidential consultation, call or contact us online today.
Sources:
flcourts.gov/content/download/686031/file_pdf/995a.pdf
leg.state.fl.us/statutes/index.cfm?App_mode=Display_Statute&URL=0000-0099/0061/Sections/0061.13.html
browardclerk.org/