Child Time-Sharing With Teens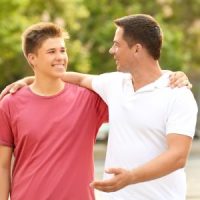 Parenting teens is one of the most difficult tasks. While still considered children, in their own minds, they are well on the way to adulthood and are generally adamant about establishing their independence. Even under the best of circumstances, dealing with teens can be difficult. It is particularly challenging when you and the other parent do not live together and child time-sharing is an issue. Find out more about creating a parenting plan and ways to make it easier for both you and them.
Creating A Child Time Sharing Plan For Teens
Under the Florida Statutes, child time-sharing arrangements are generally encouraged by the courts in cases where parents are divorced or otherwise not living together. The goal is to ensure both parents remain active and involved in the child's life.
In making these arrangements, the child may live primarily with one parent during the week or divide their time between both parents' homes. Other arrangements that must be considered include:
Rights to weekend visits, which usually alternate;
Extended visits on holidays, school breaks, or other special occasions;
Arrangements regarding transportation and attendance at school or extra-curricular events;
The right to make decisions on the child's behalf that impact important areas of their lives, such as their health, education, and religious upbringing.
It is generally easier to make these arrangements with smaller children, as they are less likely to have active social lives or added pressures due to school or work responsibilities. With teens, who typically have firm ideas on how child time sharing should be handled, it can get more complex and difficult.
Working With Your Teen In Creating Child Time-Sharing Arrangements
Teens generally do not testify in court or have a formal say when creating child time-sharing arrangements through the Broward County Court. However, they should still be included in making these plans. Get their perspective on the situation, find out what is most important to them, and assure them that their wants and opinions matter.
When creating a parenting plan in Florida that involves teens, it is important to factor in the following:
The relationship they have with each parent;
Their overall feelings regarding the situation;
Their other obligations and activities, which could influence scheduling;
Their need for alone time, as well as time for their friends.
The bottom line is that, as the adults, you and the other parent have the final say in making child time-sharing arrangements. However, including them in these discussions, showing respect for their personal lives, and listening to their opinions can go a long way to making the situation less contentious for everyone involved.
Request A Consultation With Our Fort Lauderdale Child Time-Sharing Lawyer
At the law office of Vanessa L. Prieto, we provide the trusted legal guidance you need when creating parenting plans involving teens. To discuss your options and how to protect both your teen and your rights as their parent, call or contact us online and request with our Fort Lauderdale divorce lawyer today.
Sources:
leg.state.fl.us/Statutes/index.cfm?App_mode=Display_Statute&Search_String=&URL=0000-0099/0061/Sections/0061.13.html
flcourts.gov/content/download/403367/file/995a.pdf