Common Concerns About COVID And Fort Lauderdale Child Time Sharing Plans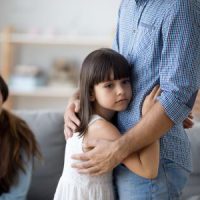 After a lull in COVID-19 cases, the Omicron variant spiked and wreaked havoc throughout the recent holiday season. A surge in case counts across Florida is creating problems for parents in regard to child time-sharing arrangements. Our Florida child custody & time sharing attorney addresses some of your common concerns.
Omicron Variant Wreaks Havoc In Florida
An early January 2022 report by the Miami Herald cited increasing COVID case counts and some of the changes likely to result. Unlike spring of 2020, most stores and businesses will remain open. However, there are some problems you are likely to encounter:
Worker shortages and supply chain issues are to be expected and may worsen somewhat as more people get sick or are forced to quarantine due to close contact with someone who is.
Restaurants remain open but again-service is likely to suffer.
In terms of public transportation, there is no mask mandate in Florida. However, national companies such as Uber and Lyft are continuing to require passengers to mask up, as do airports.
If you are traveling, be aware of restrictions in effect in other areas.
For parents with child time-sharing arrangements, a major concern is whether schools will close. A recent Forbes report states that this has been an issue in other states, but Florida Governor Ron DeSantis vows to keep schools in our area open. He also refuses to reinstate mask mandates, although they are required by vendors and visitors at Broward County Schools and strongly recommended for teachers and students.
Frequently Asked Questions Concerning COVID and Child Time Sharing Plans
Parents involved in child-time sharing need to be aware of the latest impacts and requirements regarding COVID=19. The situation remains in flux, but the following provides current answers to frequently asked questions: 
Will COVID impact my scheduled court proceedings? For the most part, no. The Broward County Court continues to hold hearings, though some judges may do certain case-related business via Zoom.
Does COVID mean I do not have to follow my parenting plan? You are required to follow any court orders currently in place but there are situations in which modifications may be necessary.
What should I do if my child or others in my home test positive? If you or your child exhibits symptoms or tests positive for the virus, inform the other parent right away so that temporary schedule changes can be made as needed.
What should I do about disagreements concerning COVID precautions? COVID vaccines are not mandated but strongly encouraged. If you are the legal guardian of your child, you have the right to make this decision. If you feel the other parent is being reckless in regards to precautions, discuss the matter with our Fort Lauderdale child time-sharing attorney.
Our Fort Lauderdale Child Time Sharing Attorney Is Here To Help 
The law office of Vanessa L. Prieto is here to help parents navigate these difficult and confusing times. Call or contact our office online and request a consultation with our Fort Lauderdale child time-sharing attorney today.
Resource:
miamiherald.com/news/coronavirus/article256763697.html