Considering Remarriage? Four Issues You Need to Address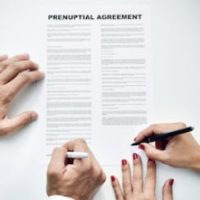 Just because your first or even second marriage did not work out, it does not mean love is not in the cards. People fall in love again at any age and find themselves ready to take another stroll down the aisle. While this can be a wonderful, happy occasion for all your family and friends, it is important to give some thought to the future and any special arrangements you need to make, such as a prenuptial agreement and changes to your estate planning documents. Far from putting a damper on your upcoming marriage, addressing the following four issues can actually help make your relationship stronger.
Complicated Issues Surrounding Remarriage
Forbes advises that while second, third, or even fourth marriages are common these days, the issues surrounding them can be complex and can take a couple by surprise. As a result of prior commitments and experiences in life, there are likely to be outside factors that can complicate your relationship and any plans you and your soon to be spouse make. The following are among the four most common issues facing newly remarried couples, which can create controversy if they are not properly dealt with:
Blended Families
Stepfamilies do not carry the negative connotations they once did and step parents, children, and siblings often form close, tight knit relationships. However, blending two families seamlessly into one does not always come naturally and may require some advance planning and compromise. Give plenty of respect to each person's boundaries and discuss in advance how issues such as discipline, decision making, financial matters, and family traditions will be handled.
Inheritance Issues
If you do have children from a previous relationship, you will want to give thought to protecting their inheritance rights. Under Florida Probate Court rules, your new spouse will now be a primary beneficiary of your estate, which could impact the amount your children get. A premarital agreement is one way to shield and preserve certain assets for them in the future.
Property Ownership
In addition to protecting any children you have, you also want to protect your new spouse. If you move into a home that is titled in your name, this could present a problem in the event of the unexpected. Discuss the situation to determine what is best for both of you. You may want to consider retitling certain property, giving your new spouse rights of survivorship.
General Costs and Living Expenses
Money is one of the most common causes of marital strife and is a leading factor in divorce. Obtaining a prenuptial agreement in advance helps you to disclose all assets and debts while clarifying issues regarding spending habits and lifestyle, which could be an issue later in your marriage.
Let Us Help You Today
At the law firm of attorney Vanessa L. Prieto, we provide the legal guidance you need when remarrying to make sure that all of your loved ones are protected. Contact our Fort Lauderdale family attorney and request a consultation today.
Resource:
forbes.com/sites/markeghrari/2017/06/02/second-marriage-and-estate-planning-5-things-you-may-not-have-considered/#110778e01db1
https://www.vanessaprietolaw.com/four-reasons-you-may-need-to-change-your-prenuptial-agreement/