Is an Uncontested Divorce Right for You?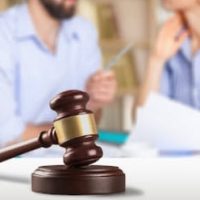 In contested divorce cases, disagreements over money, property, and children can get ugly and proceedings can drag on long months or even years. This process costs both parties involved time and money, but there are situations where it can not be avoided. However, as Florida is a no-fault divorce state, you do have the option of resolving the situation in a more amicable fashion. If you and your spouse are able to agree on certain terms, you may be entitled to an uncontested divorce case.
The Benefits of an Uncontested Divorce
Under Section 61.052 of the Florida Statutes, the only grounds for obtaining a divorce in the state is that you meet residency requirements and appear before the court, declaring that the marriage is irretrievably broken. This means that you and your partner have issues that cannot be resolved and have determined the best course of action is to part ways.
In any divorce proceeding, there are certain matters which must be dealt with before your divorce can be granted. These include the division of marital property and assets, decisions regarding spousal support, and time sharing arrangements for any children of the marriage. If you and your spouse can agree in advance to these terms, you may be able to file an uncontested divorce, outlining your arrangements in the divorce petition submitted to the Broward County Court. The benefits of doing so include:
Less fighting between you and your spouse;
Less time in divorce related hearings;
Less money in attorney's fees and court expenses; and
Your divorce order can be granted in as little as a month or so.
Be aware that even if you choose this option, it is still important to have an experienced Fort Lauderdale divorce attorney on your side. In addition to protecting your rights in your divorce, we can also ensure all the proper pleadings and information are filed and served correctly. Mistakes in this area will delay the process and increase your overall costs.
When an Uncontested Divorce Is Not in Your Interests
The potential to save time, money, and emotional turmoil in your divorce case may make a contested divorce seem like the logical right choice. However, there are situations where agreeing to this type of divorce could hurt you in the long run, particularly when it comes to your financial security, your rights as a parent, and the safety of your children. These situations include:
If you are leaving a long term marriage, in which your retirement plans were tied up with your spouse's;
If you make significantly less than your spouse, or sacrificed your own career or education for the sake of the marriage;
If you have significant amounts of marital property and assets;
If you have concerns about your spouse and their parenting abilities.

Reach Out to Us Today for Help
Before making a decision that could negatively impact you in the future, reach out to the law firm of attorney Vanessa L. Prieto first. To request a confidential consultation to discuss your options,  contact our Fort Lauderdale divorce attorney today.