Do Courts Favor Mothers In Florida Child Time Sharing Proceedings?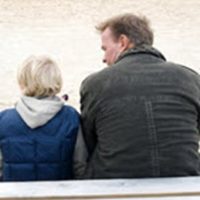 Legal matters pertaining to the care of children are among the most heated and potentially contentious in the Florida family court. For parents who are divorced or unmarried and not living together, the right to spend time with your child is of the utmost importance. Fathers, in particular, may fear that they will not be dealt with fairly in Fort Lauderdale child time sharing proceedings. However, while the courts did at one point favor mothers over fathers, today judges encourage both parties to play an active and engaged role in their child's life.
The Rights of Father To Child Time Sharing In Fort Lauderdale
Throughout the 1950s and 60s, fathers had little rights when it came to their children in divorce or paternity proceedings. Up until the late 1970s, most courts prescribed to a legal theory referred to as the 'tender years doctrine'. It reflected prevailing attitudes at the time that children, particularly young ones, were better off being cared for primarily by their mother. This was partly due to the fact that mothers were expected not to work outside the home and also due to preconceived notions that women were more nurturing than their male counterparts.
Fortunately, this attitude has changed over the past 30 years. As a result of father's rights movements and other progressive changes, family courts today are more likely to view both parent's roles as being equally important. Under the Florida Statutes, child time sharing arrangements are encouraged, which allow both parents to participate in their child's daily care. Rather than basing their opinion on gender biases, courts today consider the following in making time sharing plans:
Each parent's current and prior relationship with the child;
Their proven ability to meet the child's needs;
Each party's willingness to cooperate with the other in following through on parenting plans;
Any special needs the child has or other circumstances involved.
The Role of Fathers In Parenting Plans
In ensuring fathers play an active and engaged role in child time sharing arrangements, the courts rely heavily on parenting plans in Florida. These dictate each party's rights in regards to spending time with the child and other important matters. This includes:
The amount of time the child spends in each parent's home during the week;
The right to weekly visits and overnight stays on weekends;
The right to spend extended time with the child over school breaks, holidays, and other special occasions;
The right to pick the child up from school and attend school -related functions;
The right to make legal decisions on behalf of the child regarding matters such as their education, medical care, and religious upbringing.
Contact Us Today for Help
As an experienced Fort Lauderdale child custody time sharing attorney, Vanessa L. Prieto provides the trusted legal representation fathers need to ensure their rights are protected. To discuss options available in your particular case, call or contact our office online and request a consultation today.