Domestic Violence As A Cause For Military Divorce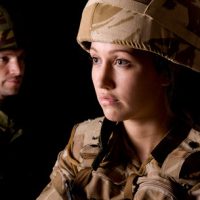 It is not uncommon for military spouses to feel isolated and alone, living far from their families and cut off from civilian life. Having to frequently uproot your family or dealing with periodic separations from your partner can put a strain on any marriage, but there also can be deeper issues involved. Domestic violence is a common factor in military divorce, with victims who may not know where to turn to get help. If you or someone you care about is in this type of situation, the following can help identify the problem while providing options for protecting yourself and moving on with your life.
Domestic Violence Among Military Spouses
Abuse among military spouses is unfortunately common, but often goes unreported. Fear of reprisals and of military hearings often prevent victims from coming forward, and some of the experiences military members go through seems to make abuse more common:
Combat veterans with symptoms of post traumatic stress disorder (PTSD) are two to three times more likely to show aggression towards their partner.
Nine out of ten report having been psychologically abusive with their spouses over the past year.
In general, women in the military are more likely to be victims than their civilian counterparts.
Close to 40 percent report experience intimate partner violence at some point in their careers.
Military members can be dishonorably discharged from the service as the result of abusive behavior. In cases of military divorce on the basis of domestic violence, federal law mandates that spouses in these cases may be eligible to receive up to three years of support. The service member may be ordered to pay up to $1,200 or more per month in spousal support, and another  $300 or more towards support for each child of the marriage.
Warning Signs Of Domestic Violence In Military Marriages
Common behaviors and warning signs of domestic violence are the same among military members as they are among civilians. According to the National Domestic Violence Hotline, these may include any of the following:
Constant criticism or complaints that you cannot do anything right;
Extreme jealousy of friends or any time spent outside of the home;
Discouraging you from being social or seeing family members or friends;
Preventing you from working, attending school, or leaving the home;
Controlling money and limiting your access to funds;
Insulting or calling you demeaning names;
Claiming you are a bad parent and threatening to take your children;
Destroying personal property or abusing family pets;
Engaging in sexual harassment or aggressive sexual conduct;
Using guns, knives, or other weapons to intimidate or threaten you;
Engaging in pushing, hitting, slapping, spitting, and other forms of aggressive behavior.
If you experience any of the above, it is important to get help as soon as possible. If you feel your safety is in jeopardy, physically leave the home and notify military police and your local law enforcement agency.
At the Vanessa L. Prieto Law Offices, LLC, we are here to help. Call or contact our Florida military divorce attorney online today and request a free consultation to discuss the options available in your situation.
Resource:
thehotline.org/is-this-abuse/abuse-defined/