Making Sure Child Support Covers School-Related Costs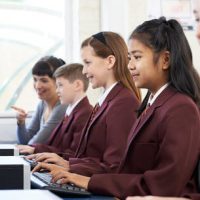 For parents of children just entering junior high or high school, no doubt many will be surprised at the hefty costs and fees involved. Supplies such as backpacks, back-to-school clothes, books, pens, and paper have increased in price, along with added necessities, such as laptops and elaborate calculators. If you are currently involved in child support hearings with your former partner, it is important that the other parent share financial responsibility in meeting these costs. If you have an existing order which may fall short in meeting your child's school-related needs, you may want to consider seeking a child support modification.
The High Costs of Raising School Age Children
NBC News reports indicate that the costs of children's back-to-school supplies have more than doubled over the past 10 years. Teachers typically provide parents a list of the items their children will need throughout the school year, which is likely to include any of the following:
Backpacks, headphones, gym clothes, and flash drives;
Binders, notebooks, folders, composition books, and lined paper;
Pens, colored pencils, markers, and highlighters;
Calculators, rulers, pen sharpeners, and glue sticks;
Personal items, such as tissues to combat the sniffles that seem to break out in classrooms constantly throughout the year, and hand sanitizer to keep germs at bay.
The overall amount you are likely to spend depends on your child's grade level. For elementary school students, the estimated price is close to $700. For junior high students, it increases to roughly $1,000 and for high school students, expect to spend $1,500 or more.
In addition to these supplies you have the cost of school clothes and big ticket items such as laptops and tablets. There are also school fees related to field trips, yearbooks, and recreational activities. If your child engages in youth sports or plays an instrument, your costs can easily double.
Including School Costs In Your Child Support Arrangements
All told, the NBC report states that parents can expect to spend from $13,000 on up in just the basic costs related to the care and support of their school-age child each year. For parents involved in child support hearings, it is vitally important to be realistic about these costs before making any agreements.
Under Section 61.30 of the Florida Statutes, child support is typically determined based on the incomes of each parent, along with the costs associated with the care of the child. During the negotiation process, it is important to be thorough in assessing your child's total needs, along with the added expenses that will aid in their intellectual, social, and emotional development. 
Contact Us Today for Professional Help
Whether you are in the beginning process of negotiating child support or if you have an existing order in place, the Vanessa L. Prieto Law Offices, LLC can help ensure you get the total amount your child deserves. Call or contact our Orlando child support attorney online to request a free consultation to see how we can assist you today.
Resource:
nbcnewyork.com/news/national-international/Rising-Cost-School-Supplies-Supplying-Our-Schools-428650113.html