How To Talk To Your Children About Your Divorce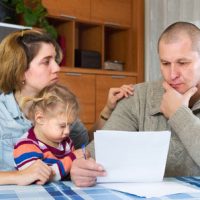 While divorce is painful for adults, it can be devastating for children. In the midst of making parenting plans and timesharing arrangements, it is natural to wonder just what to say about your divorce and how to say it. The following offers advice on how to talk to children about divorce in a way that is appropriate for their age, while offering them the assurance they need to adjust to this difficult time in your family's life.
Age Appropriate Ways To Talk To Children About Divorce 
The age and emotional maturity of your child should factor into any discussions about your divorce, the reasons for your breakup, and any future plans being made. Today's Parent offers the following guidelines for having these discussions in a way that is age appropriate:
For Children Five And Under
Children at this age lack the ability to understand future actions, complex events, or even their emotions. They are likely to be more self-centered, while blurring the line between fantasy and reality. Use simple language when telling them about your divorce or when answering questions, and remind them they will always have a home and two parents that love them.
For Children Six To Eleven Years Old
Children this age have a broader understanding of situations, and may have friends at school or in your neighborhood whose parents are divorced. Be prepared for them to blame one parent or the other, and to hold on to the notion that there may be a reconciliation. Make sure they know they are not responsible for your marital problems, that both of you will continue to be a part of their lives, and that it was not any one specific argument that led to your split.
For Children Twelve to Fourteen Years Old
At this age, your child is better able to communicate their feelings, but are likely to turn to friends for help coping rather than you or your spouse. They may act out by defying your authority or developing physical ailments, such as headaches and stomachaches, or may withdraw and act depressed. Let them know you love them and provide reassurance about their feelings and the fact that it will take everyone time to adjust to this new situation.
For Children Fifteen and Older
While they may act like they are older than their years or insist they want to be treated as adults, it is important to remember they are still children, and need protected from some of the harsher realities of your breakup. Avoid over sharing or using them for emotional support, even if they try to encourage these discussions.
Contact Our Divorce and Timesharing Attorney
In any discussion, regardless of your child's age, bear in mind that under Florida's divorce statutes, guidelines for timesharing and parenting plans take into account any negative comments you make about the other parent or whether you overly confide in your children about your relationship.
For professional legal help in navigating this and other situations you are likely to encounter during your divorce, contact the Vanessa L. Prieto Law Offices, LLC.  We provide professional legal representation to help protect you and your children's rights. Call and contact us online and request a free consultation in our Fort Lauderdale office today.
Resource: