What Rights Do Fathers Have in Florida Child Time-Sharing Proceedings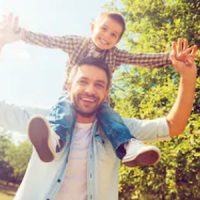 In the past, when parents were unmarried or got a divorce, it was automatically assumed that the child would live with the mother. Today, the courts are more likely to recognize the important role fathers play and how crucial it is to include them in parenting plans and any child time sharing arrangements that are made. If you are a single father or one going through a divorce, be aware of your rights under Florida law.
Your Right to Be Included in Parenting Plans
When it comes to children, the Florida Statutes encourage child time sharing arrangements in which both parties share in the child's daily life and in providing for their care. In a divorce, child time sharing proceedings will be included as part of the overall case. In situations involving single parties, arrangements for children from the relationship may spring from paternity proceedings if the father's name is not on the birth certificate. If it is, a legal petition pertaining to child time sharing can be filed on its own with the court.
Under state laws, fathers have just as much right to spend time with their children as mothers do.  You will be required to submit a parenting plan, which outlines how weekdays, weeknights, and special occasions will be divided between the parties as well as decision making authority for the child. Factors the judge is likely to consider in approving these plans include:
The role each parent currently plays in the child's life.
Their past relationship with them.
Each parent's ability to cooperate with the other in making child time sharing arrangements.
Any issues on the part of either parent which could potentially put the child in jeopardy.
These types of issues may include a past history of criminal activity or drug and alcohol abuse. However, provided you completed your sentence or sought treatment and are now taking efforts to make a safe, stable home for your child, you are still entitled to play a significant role in your child's life and in providing for their care.
Your Rights Concerning Child Support
Child support payments were previously another responsibility which fell mainly on fathers in previous years. Today, depending on your child time sharing arrangements and information provided by both parties through Florida family court financial affidavits, the mother is just as likely to be required to make payments. Factors the court considers in these cases include:
The amount of time the child spends in each parent's home;
Each parent's total income, assets, and debts;
Whether each parent has children from other relationships to provide for as well;
Any special financial needs on the part of the child.
Contact Us Today for Help
Fort Lauderdale child custody and timesharing attorney Vanessa L. Prieto aggressively defends the rights of fathers in child time sharing proceedings and in matters pertaining to child support. To find out how she can help in your case, reach out and contact our office to request a consultation today.
https://www.vanessaprietolaw.com/creating-a-parenting-plan-for-teens/