What You Do Online Could Hurt Your Divorce Case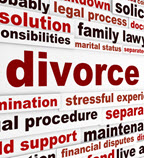 Our 'online presence' can have a positive impact in terms of our personal lives and professional success. It can also reveal facts about us that would better be kept private, or give a false impression about our situation. This is particularly true when going through a separation or when filing for divorce. Information posted online or sent via texts and emails is increasingly being used in divorce and child time sharing proceedings, and can end up actually hurting your case.
Be Careful What You 'Share' In Social Media Posts
Social media is an excellent way to connect with friends and acquaintances, to showcase yourself and your causes, interests, and talents, and to keep up with the day's events. At the same time, information or opinions you post could backfire in certain situations. Divorce is a classic example of one of these times. 'Oversharing' or being confrontational on sites such as Facebook or Twitter can needlessly complicate negotiations while providing evidence your spouse can use against you. Prevention advises that you avoid any of the following common mistakes:
Jumping the gun in making announcements: While it is natural to want others to be aware of your situation, making these announcements too soon or without consulting with your soon-to-be ex-spouse or close family members could create conflict.
Complaining about your ex online: When you are angry or upset, it is easy to use your social media to drum up support. However, bashing your spouse online is likely to only escalate the situation, while potentially alienating family and friends.
Incriminating yourself through in your posts: Posting photos or comments about a new romantic partner or about expensive purchases or trips you are taking could contradict you in divorce documents or prove accusations your spouse has made.
Either spying on or blocking your ex: During your divorce, it is best to avoid any extreme actions while you allow yourself time to recover. Blocking your ex will prevent you from gauging what they are up to, while daily monitoring of their connections and posts prevents you from moving on with your life.
Protect Yourself Online 
A 2016 Huffington Post report on the impact of the internet in divorce cases advises couples to be cautious of any online activity that could influence alimony, marital property division, child time sharing and support awards. In addition to social media, things that could hurt your case include:
Texts and emails sent to your ex partner in the heat of the moment, which portray you in less than a flattering light;
Profiles on dating sites, which may show intent to commit adultery;
Following or making comments on certain types of pages or websites, which could reflect negatively on your character.
Get Professional Legal Advice from Our Florida Divorce Attorney
Before taking actions which could potentially harm your divorce case, contact the law offices of Vanessa L. Prieto first. Our Florida divorce attorney can help protect your interests while providing the trusted legal guidance you need in your case. Call or contact our office online and request a consultation in our Orlando office today.
Resources:
prevention.com/sex/social-media-mistakes-during-divorce
huffingtonpost.com/william-morrow/a-look-at-how-social-medi_b_10633940.html