Five Important Financial Documents You Need When Getting a Divorce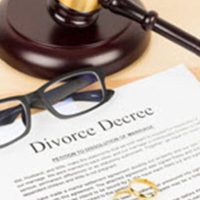 For couples contemplating a divorce, It is natural to focus on the emotional aspects involved. When you got married, you likely expected to remain with your partner forever. The disillusionment and sadness you feel can be overwhelming at times, but there are important practical details that must be attended to. Divorce can have a major impact on your finances and there is information you will need to provide to the court to ensure a fair settlement. The following are five important financial documents you need to gather now to ensure your rights and your future financial security are protected. 
Financial Documents Needed During Divorce 
Even if you and your spouse both agree to getting a divorce, there are still important issues to resolve before a final order can be issued. Under Section 61.075 of the Florida Statutes, all property and assets earned or acquired will need to be divided equitably between you and your spouse, based on the specific financial circumstances involved. Money matters will also be a consideration in determining whether spousal support should be awarded in your case and will factor in child time sharing and support. To ensure you are prepared for these proceedings, it is important to gather the following documents:
Titles to all real estate and other property you own. This includes items such as homes, cars, timeshares, and recreational equipment. For items such as furniture, collectibles, and other belongings, gather any receipts you may have, look online to determine values, or consider getting the items appraised.
Balances for all financial accounts. Gather account numbers from all financial institutions and get statements showing the date and current balance. This includes all saving or checking accounts, investments, and stocks. Review past tax returns to ensure there are no hidden accounts you are not aware of.
Balances for credit card, loans, and other debts. In addition to dividing assets between you and your spouse, the court will also determine each person's liability in terms of debts. Document the current balance on your mortgage, car loans, credit cards, and any other debts you both owe.
Statements for retirement accounts and pension plans. When dividing assets, it is easy to overlook retirement accounts and pension benefits. These can make up a significant portion of your property settlement and can help to ensure your financial security in the future. Make note of any Social Security benefits your spouse accumulated as well. If you were married at least 10 years, you may be entitled to a portion of these benefits.
Any pre or post marital agreements made. Finally, make sure you have copies of any premarital agreements you may have entered into while you were engaged or post marital agreements created during your marriage.
Reach Out to Us Today for Help
Fort Lauderdale divorce attorney Vanessa L. Prieto provides the professional legal guidance and representation you need to protect your rights in a divorce. To find out how she can help you, call or contact our office online and request a consultation today.