Four Important Issues If You Are Over 50 And Filing For Divorce in Fort Lauderdale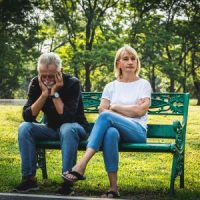 Ending a marriage is difficult at any age, but people who are 50 and over have often spent several decades with their partner. Not only are their pasts intertwined, but their future plans are often as well. During divorce proceedings, decisions you make could impact your financial security for years to come. Our Fort Lauderdale divorce lawyer advises getting legal help in addressing four important issues before signing any settlements.
Getting A Divorce Over 50? Four Areas To Consider
According to Psychology Today, the divorce rate in the U.S. is decreasing. However, there is one segment of the population in which the number of divorces filed has increased: people over 50.
In the past, older adults often remained in unhappy marriages due to social pressures and financial considerations. However, as more people remain active well into their 80s and beyond, there is no reason not to end your relationship if it is no longer fulfilling. However, before signing any divorce documents, discuss the following issues with an experienced Fort Lauderdale divorce lawyer:
Division of all marital property 
Under the Florida Statutes, all marital property in a divorce is divided on an equitable basis. This includes homes or other real estate, cars and recreational vehicles, furniture, artwork, and other household furnishing, personal items of value, and money in bank accounts.
To get the best possible settlement, make a thorough list of everything you and your spouse own and the relative value. Consider what is most important to you and what you might trade to retain ownership.
Shares in investments and businesses
When making an inventory of marital property in divorce, do not overlook investments. Consult with past year tax returns, which can often reveal assets that may otherwise be hidden.
If your spouse owns a business, you may be entitled to a portion. If you own one together, get a valuation and consider options, such as dividing ownership, trading your shares, or selling the business completely.
Retirement benefits
This is an important issue when getting a Fort Lauderdale divorce over 50. Your retirement plans may have been closely tied to those of your spouse. You are entitled to a portion of any pensions or 401 k accounts that earned money during your marriage. You may also be entitled to a portion of any Social Security retirement benefits they are entitled to receive.
Alimony awards
Finally, you may be entitled to alimony. While Florida law recently changed and no longer allows for permanent alimony payments, monthly amounts or lump sum settlements you do receive can help protect your financial security once your divorce is finalized.
Contact Our Fort Lauderdale Divorce Lawyer Today
Before agreeing to any divorce settlements or signing any legal documents, discuss your options with the law office of Vanessa L. Prieto first. To protect your rights, call or contact our Fort Lauderdale divorce lawyer online and request a consultation today.
Sources:
psychologytoday.com/us/blog/living-single/202302/what-do-most-people-over-50-do-after-divorce-stay-single
leg.state.fl.us/STATUTES/index.cfm?App_mode=Display_Statute&Search_String=&URL=0000-0099/0061/Sections/0061.075.html
ssa.gov/oact/quickcalc/spouse.html#:~:text=The%20spousal%20benefit%20can%20be,will%20receive%20a%20reduced%20benefit