The Difference Between Contested And Uncontested Divorce In Fort Lauderdale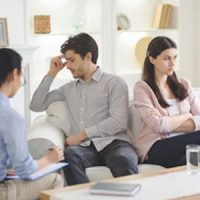 Each divorce is as different as the couple involved. Some people decide to get a divorce in Fort Lauderdale after realizing they made a mistake or spending years slowly growing apart. In others, hurtful events have happened recently or there are strong disagreements over money, lifestyles, or how to raise children. In either situation, you need an experienced divorce attorney on your side. While an uncontested divorce is generally easier, it can still cost significant amounts of time and money if not done properly. In contested cases, it is even more important to have someone making sure your best interests are protected.
Uncontested Divorce In Fort Lauderdale
In any divorce, there are important matters under the Florida Statutes which must be resolved before a final order can be issued. These pertain to the division of marital assets, determinations regarding spousal support, and time sharing arrangements for any children from the marriage. In an uncontested divorce case, both parties consent to getting a divorce and either have no children and few assets or can reach their own agreements in regard to the terms.
One of the benefits of a contested divorce is that it can generally be resolved quickly, allowing the parties to obtain a final divorce decree in as little as a few months. It also generally costs less money in terms of attorney's fees. However, you still need an experienced Fort Lauderdale guiding you through the process. This helps to ensure your divorce petition is filed properly with the court and that your rights are protected in any settlements or agreements reached.
Protecting Yourself In A Contested Divorce
In contested divorce cases held through the Broward County Court, one of the parties may refuse to sign divorce-related documents or participate in hearings, either due to spite or simply not wanting the marriage to end. A contested divorce may also involve heated disagreements and major disputes over how property and assets should be divided or each parties rights in creating parenting plans.
Settlements reached in a divorce can impact your financial security and overall well-being both now and in the years to come. Common disputes that our attorney can help to address include:
Who will retain ownership of the family home, furniture, antiques, artwork, and other marital property;
How retirement benefits, stocks, investments, shares in businesses, and other financial accounts will be divided;
Spousal support payments, which may be available if one spouse makes significantly less than the other or sacrificed their own career for the sake of the marriage;
Child time sharing plans, particularly if one of the parents has not played a major role in the child's life, and any child support amounts that should be provided.
Contact Us Today for Help 
At the law office of Vanessa L. Prieto, we can help ensure your rights in divorce are protected and that your case is resolved in the quickest and most cost-effective manner possible. To request a consultation, call or contact our Fort Lauderdale divorce attorney online today.